Allison "Alli" Rose Speed was born on August 13, 1989 (age 25) in Atlanta, Georgia. She is of Jewish descent. She graduated from New Gate School in Sarasota, FL in 2007 and Florida State University in Tallahassee, FL in May of 2011 with a degree in Spanish. She participated in sketches on her ex-husband Charles' channel Charlestrippy as well as in their daily vlogs Internet Killed Television until their announced divorce.
Personal Life
Edit
Alli Speed was born in Atlanta, Georgia. She has an older brother, Justin Speed (27 years old), who has his own Youtube channel Gradlife with friend Wyatt Kostygan. She grew up in Sarasota, Florida. She grew up doing dancing for 12 years of her childhood doing many styles including ballet as well as being trained on pointe.
She met Charles Trippy on Myspace and the two met in person at a Starbucks. Alli has not said much about her whereabouts, but Charles remains in the couple's home.
They had gotten 2 dogs together. Zoey, a New Zealand Huntaway, and Marley, a Rat Terrier. They found a dog a few weeks before seperating, and named it Chico.
On April 8, 2014, Alli and Charles announced they would be separating on mutual terms but would continue to stay friends & remain close as possible. This is demonstrated as Alli's mother, Lauren, drove Charles to the post office and to the grocery store.
Alli also holds the household's pinball record.
The channel they hosted, CTFxC[1], holds the world record for "Most Consecutive Vlogs."
(Vlogs is short for video-blogs.)
Alli & Charles on their wedding day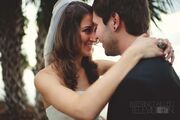 Cite error: <ref> tags exist, but no <references/> tag was found